Science & Magic on the Melbourne Skyline
With a pedigree of experience working on some of the world's tallest structures, NDY (a Tetra Tech Company), has been involved in preliminary scoping works for Australia's tallest building. 
Situated on a triangular block of land just 18 by 36 metres, and vested to the Royal Society of Victoria in perpetuity for the purpose of promoting their cause, NDY has been providing some early thinking on mechanical and sustainability outcomes for the former Bureau of Meteorology site on the corner of Victoria and LaTrobe streets on the north-eastern corner of the Melbourne CBD. 
The proposed slender tower – named Magic – aspires to 330 metres in height and will consist of over 60 storeys. One apartment would occupy each level with a floor space of between 250 sq m and 320 sq m. 
The Magic Tower will push building technology to the limit and reinforce Melbourne's leadership in science and liveability. Melbourne is, and always has been, Australia's science capital. Within four years of Victoria's foundation, Melbourne had its first university, a museum of natural history, and one of Australia's oldest scientific research institutions – the Royal Society of Victoria. 
The Royal Society's members established Victoria's first railways, advised on how to supply a reliable source of fresh water to Melbourne, how to lay down the sanitation system still in use today, how and where best to establish a secure source of food, and how to distribute that food internationally. They commissioned a bold (if ill-fated) exploration of the interior of our continent and kicked off Australia's exploration and long-term interests in Antarctica. 
From that start Melbourne has become the powerhouse of Australian science, contributing to the bionic eye, the cervical cancer vaccine, the first printed jet engine, new plastic technologies, and hundreds of life changing discoveries. 
"The revitalised Royal Society will keep the flame of curiosity alive in our youngest scientists. Through lifelong learning, we will offer all Victorians an opportunity to empower themselves to make well-informed decisions, shaping the future of regions and cities alike, and giving our state a distinctive edge in the 21st century," says Society CEO Mike Flattley.
Floor Plan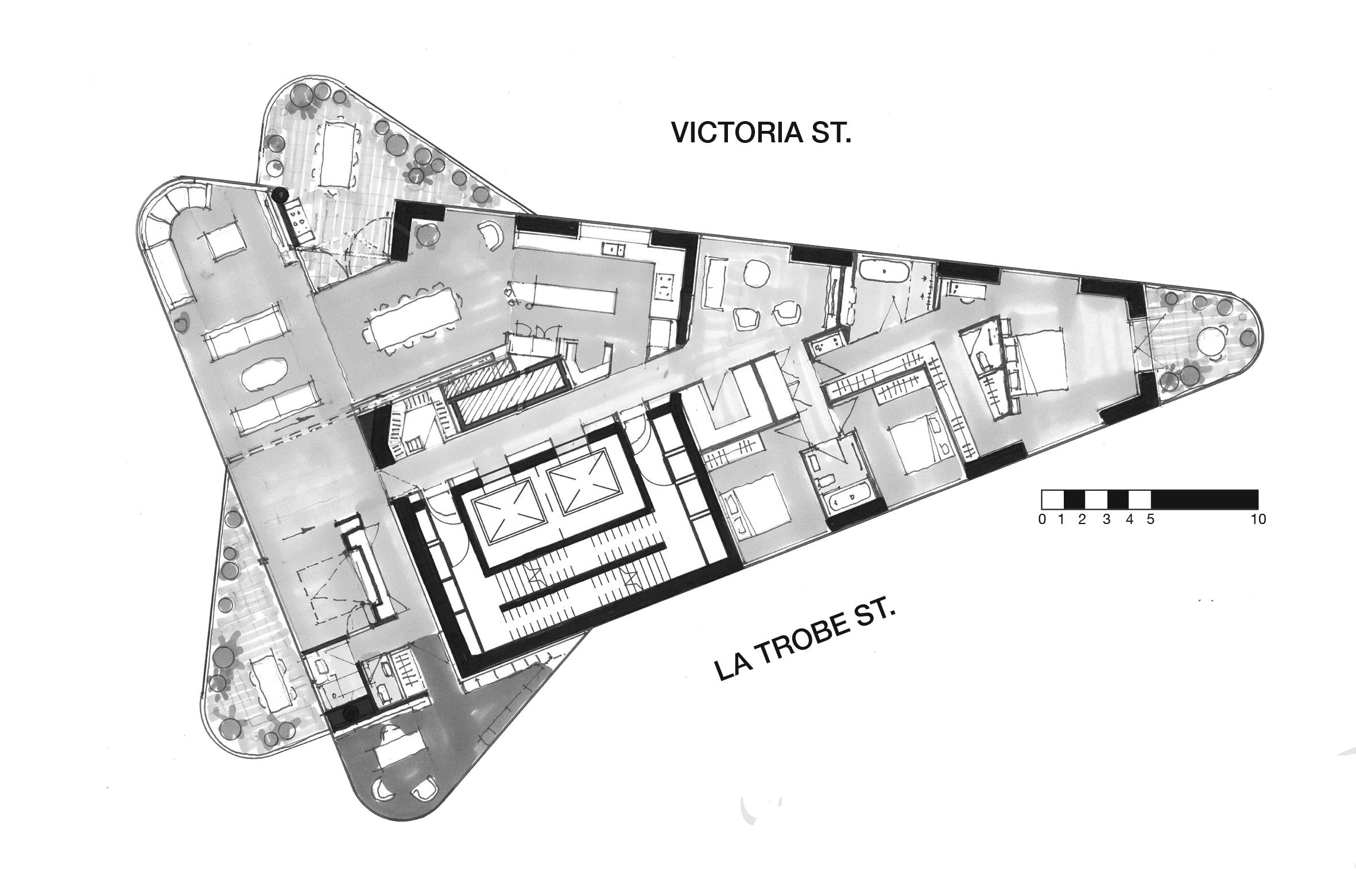 This focus on delivering science excellence and leadership to the community aligns with the NDY Tetra Tech purpose of 'leading with science' and 'making spaces work', and has been an important undercurrent in the preliminary engineering and sustainability scoping.
Decibel Architecture's Dylan Brady has created the design and worked behind the scenes to progress the innovative proposition with a broad range of technical engineering and design experts from Victoria. Early engagement with heritage, government and industry stakeholders has been key to establishing a possible pathway to realisation. Grocon has committed to the community driven project, and stepped up to underwrite the projects investigation and permitting phase, with the majority of profits to be diverted to the RSV to form a perpetual endowment fund for their ongoing operations over the next 200 years.
NDY's global director of sustainability, Prof. Tony Arnel, has been working with Brady, Decibel and other stakeholders over the past two years investigating best possible outcomes for the potential tower. "Melbourne is consistently ranked as one of the world's most liveable cities because we have a history of creating a built environment that respects the legacy of the city but also looks to incorporate best practice and innovation," says Arnel. 
"Due to the unique footprint of the site, we've been working with Dylan and the Decibel team in generating some analysis around mechanical and fire safety systems, and some early thinking around sustainability outcomes that include advanced technology to maximise energy efficiency."
Brady says this project is not a traditional development play, but rather a new investment model. "This is not a large corporation making a lot of money and running away, this is a community-driven, purpose project," says Brady. 
"We intend to attract the minds of people like Elon Musk, Richard Branson and Bill Gates, who all have philanthropic-driven understandings of value, who would love a fantastic apartment with a brilliant view knowing that the profit of their apartment is being channeled into the scientists and the science outreach programs of the Royal Society of Victoria for the next 200 years," adds Brady.
Height Comparison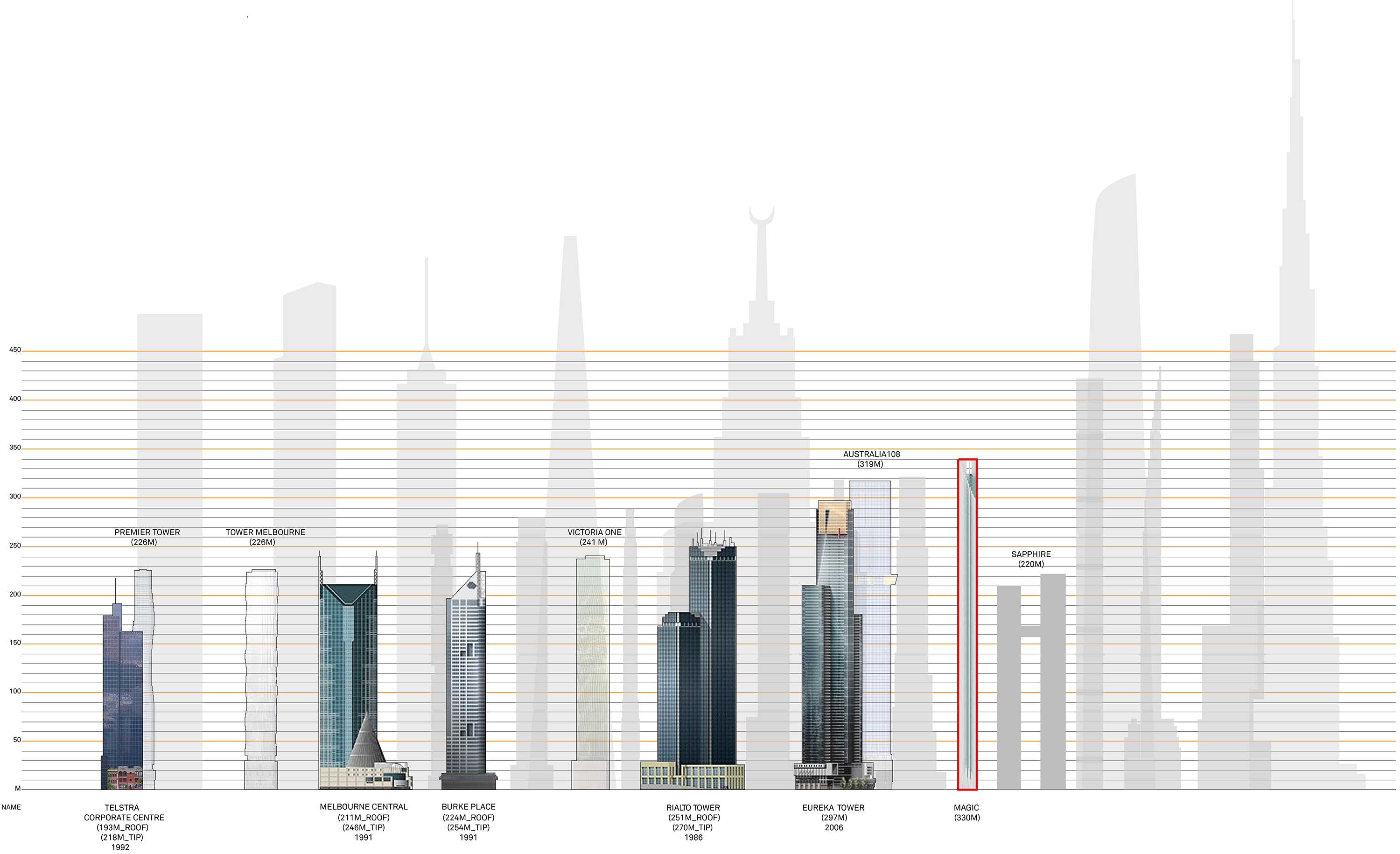 "This is not a large corporation making a lot of money and running away, this is a community-driven, purpose project"
Arnel, who is also a trustee of the Melbourne Sustainable Fund and President of the Energy Efficiency Council, says the rapidly growing population of Australian cities – and with prime sites at a premium – we can expect to see more of these innovative slender tower projects on the Melbourne skyline in the years to come. "What we do well in this country is not just build tall towers; we build highly efficient buildings that are micro communities."
The Magic Tower project will create a flow of millions of dollars to revitalise the Royal Society of Victoria, enabling it to 
Support citizen science, technology, and science clubs across Melbourne and Victoria

 

Enhance and upgrade the heritage-listed home of the RSV to meet modern accessibility requirements and be fit for the 21st century public engagement required.

 

Develop a science engagement centre and science cafe

 
Further details about Magic can be found on the Decibel Architecture website: http://www. db-a.co/work/magic/ 
Find out more about the Royal Society of Victoria: https://rsv.org.au/ 
Scan the QR code to read the ABC News media coverage: