Almost as standard, raised access floors are used for the distribution of services in the UK, yet they're high in carbon, hard to recycle and aren't used in many other parts of the world… is it time for a re-think?
Access floors, through which power and data cabling to serve desks are run, are typically 150 mm deep (the minimum recommended by the British Council for Offices (BCO) though can be less than this, or significantly more if the floor needs to accommodate pipework or ductwork for displacement ventilation.
What if we removed the raised access floor?
The embodied carbon of the floor system, estimated at 50 kgCO2/m2, would be saved
Associated materials would be diverted from complex recycling processes and/or ultimately landfill. Whilst companies such as Kingspan are able to provide Environmental Product Declarations (EPD)1, which is a step towards positive change, tiles are typically made from particle board encapsulated in steel sheet which makes them difficult, if not impossible, to recycle. Re-use of tiles is a valid option, however feedback from agents is that the impression given to a prospective tenant by a shiny new floor is valuable hence there is a reluctance to use recycled tiles. Timber encapsulated tiles are also an option and have a pleasing aesthetic though consideration must be given to the cost and longevity
All services including ductwork must be run at high level. Power and data must be wireless or distributed via power-poles or 'umbilicals' to drop services from the ceiling space to desks
Screeds may be required to 'level' floors which deflect towards the centres, these screeds have their own financial and carbon costs
Offices would be quieter; would we miss the echoey sound and 'bouncy' sensation which comes from walking on raised floors?
Agent feedback is that a scheme which doesn't include a raised floor could be less desirable to potential tenants and may even attract less rent due to a perception that it is of a lower specification.
"Unfortunately raised flooring has become hugely commonplace amongst occupiers, so any major office scheme that doesn't provide them may effect desirability and alienate the pool of demand"
Michael Raibin, Compton Real Estate
'Power-poles', 'droppers' or 'umbilicals' from high level to desks are often cited as being unsightly and a key reason for retaining a raised access floor.  However, these aesthetic challenges are not insurmountable as shown in the images below taken from NDY projects; dado trunking, skirting trunking and in-desk power are all used to good effect.
Notcutt House, London, United Kingdom
Exposed services in the ceiling are supplemented with skirting trunking to deliver power and data to the floorplate.
Victoria Police Centre, Melbourne, Australia
This fitout included services located within the ceiling void. Power and data delivered to workstations via boxed droppers.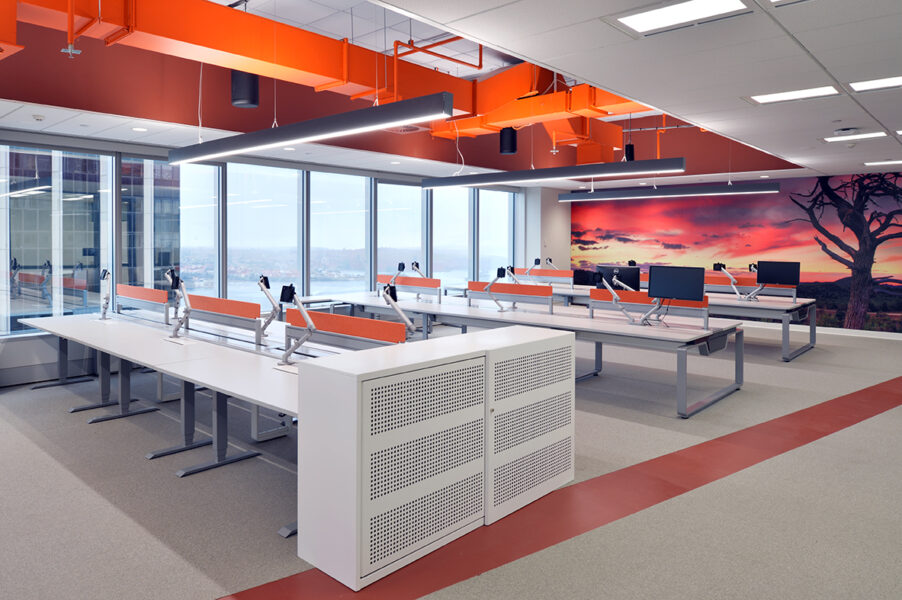 Bain & Co Fitout, Sydney, Australia
Cabling for power and data to workstations is delivered via skirting.
Private Client, Sydney, Australia
Cabling for power and data to workstations is delivered via boxed droppers.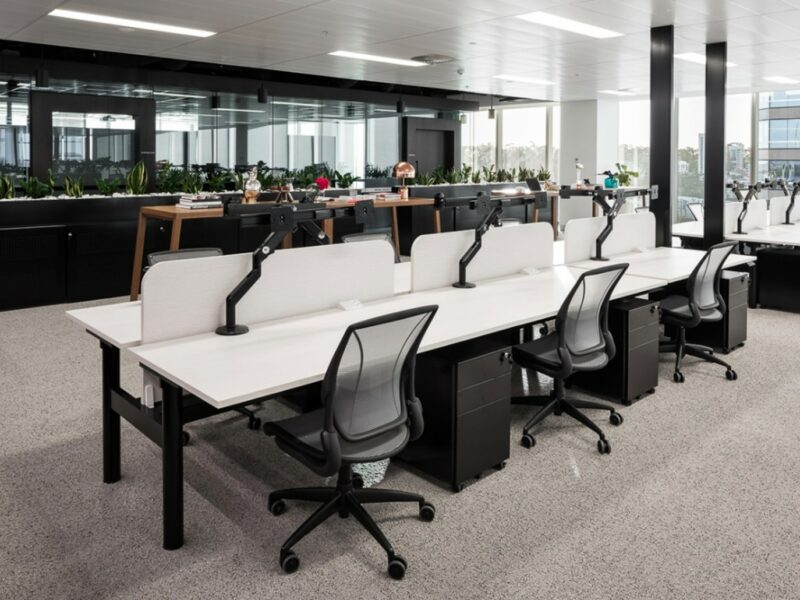 For those who can't accept that power poles can be included unobtrusively in a flexible, modern and stylish fitout, the more sustainable alternative might not be to route power and data through a raised access floor but to ask ourselves 'do we need wired connections at all?'.
Advancing DAS (Distributed Antennae Systems), WiFi and 5G mobile phone technology means there is less need to have workstations physically connected to data. Our experience with working from home over the past two years has resulted in wider adoption of laptops as the primary work device for office-based staff. In recent years battery technology has advanced to the point where new release laptops boast up to 16 hours of work time before recharge is required. Like data cabling, power to workstations may be made redundant through improved technology, though those with dual screens will require a power connection for the foreseeable future.
In 2017 Google introduced "Jack Room"2 to their office buildings – modular, flat pack meeting spaces that could be erected or dismantled within days to create new spaces within offices to accommodate the changing needs of staff. These Jack Rooms are connected to power data and services from above in 'plug and play' fashion. More recently, specialist office furniture manufacturers have begun producing modular pods to fulfill a variety of purposes – from quiet rooms and booths to focused meeting rooms. Ultimately, these solutions aim to deliver one thing – flexible work spaces.
As offices are re-occupied after the COVID-19 pandemic, we should ask ourselves whether the past two years has changed attitudes about the model of open floorplates of workstations as staff and employers begin utilising the office as a space for collaboration rather than a space for completing focused work? If this is the case, how do we build in flexibility to office buildings that enables a plug and play approach to interiors like those promised by Google's Jack?  Removing raised access floors and low level services might be part of the solution.
https://www.kingspan.com/gb/en-gb/products/access-floor-systems/resources/epds/tlm26-environmental-product-declaration